Ever wondered what jobs you can get in Whistler? Read our guide to find out the broad range of industries supporting long term employment.
Whistler - the utterly iconic mountain town that brings joy to so many visitors. Many locals found themselves here after "coming for a season and staying for a lifetime,"  -  the area offers excellent opportunities for those looking to relocate here. Whistler's stable population is supported by a job and employment market that provides more options than you might think.
In this article, we look at the business and employment landscape of Whistler, expect to have a better understanding of;
What is it about Whistler that defines the jobs that are available?
What the main industries are, and what opportunities they present?
What future opportunities might be available in Whistler? 
If there are skills shortages in Whistler right now.
The overall status of employment in Whistler.
And, how COVID19 played its role in labour and employment.
We've canvassed information from the Resort Municipality of Whistler, Townfolio and a bunch of other sources. We are particularly pleased to have spoken with local recruitment expert Jacki Bissillion who also came for a season and ended up staying long term; such is the opportunity and lifestyle on offer.

Jacki is the Owner and President of
Whistler Personnel Solutions
, she's been connecting employees and employers from their Whistler base for over 25 years. If you're in the market for real estate and a job to go with it, make sure to reach out to Jacki for the lay of the land.
What defines the employment market in Whistler?
Whistler was incorporated as a Resort Municipality, the strategic focus of development has added to its stature as one of the world's best outdoor recreational areas. There is a tricky balance to play when managing Whistler's strategic objectives, as urbanisation and land management require much thought. However, with this comes many work opportunities for those looking to settle long term. Also, though seasonal work is in high demand in the area, supporting these activities requires long term residents and businesses. 

The tourism industry in Whistler is enormous, and in many ways, it defines the ebb and flow of life here. This doesn't mean that opportunities are limited to jobs centred around providing services for tourists; instead, this is Whistler's primary economic activity. Jacki Bissillion, Owner and President of

Whistler Personnel Solutions

, told us that tourism in Whistler has evolved a lot over the last 20-30 years to the state we see it in today. 




"Previously, there were two seasons: ski season and construction season. Now the shoulder seasons between Summer and Winter are also very busy with events and groups, ensuring year-round employment and business for the community,"

Jacki noted.






$1.44 billion of consumer spending within Whistler, 85% of which was generated by visitors
$500 million yearly tax revenue generated for the Municipality
15,000 people employed in Whistler over 2018 (compared to the roughly 12,000 full-time residents).
The Municipality's economic development plan is all about continuous improvement in the area, the people, the housing and opportunities; the byproducts of which are local jobs for local people in a wide range of industries. 
Tourism economics, and the importance of it, is also recognised beyond the thrill-seekers and local residents that come to enjoy the area. Between 2006 and 2016, the British Columbia Provincial Government's Resort Municipality Initiative (RMI) has granted the Whistler Tourism Sector $74,000,000 for several projects that sustain its status as a world-leading tourism destination. With past and future Olympic Games and a host of other large-scale events, this sector will only continue to get stronger. 
What are the main employment sectors in Whistler?
Tourism is always going to be an overarching theme, but as Jacki tells us, there are some other solid industries in Whistler including construction, health care, education, arts and entertainment, spas and beauty services, outdoor recreation and professional services.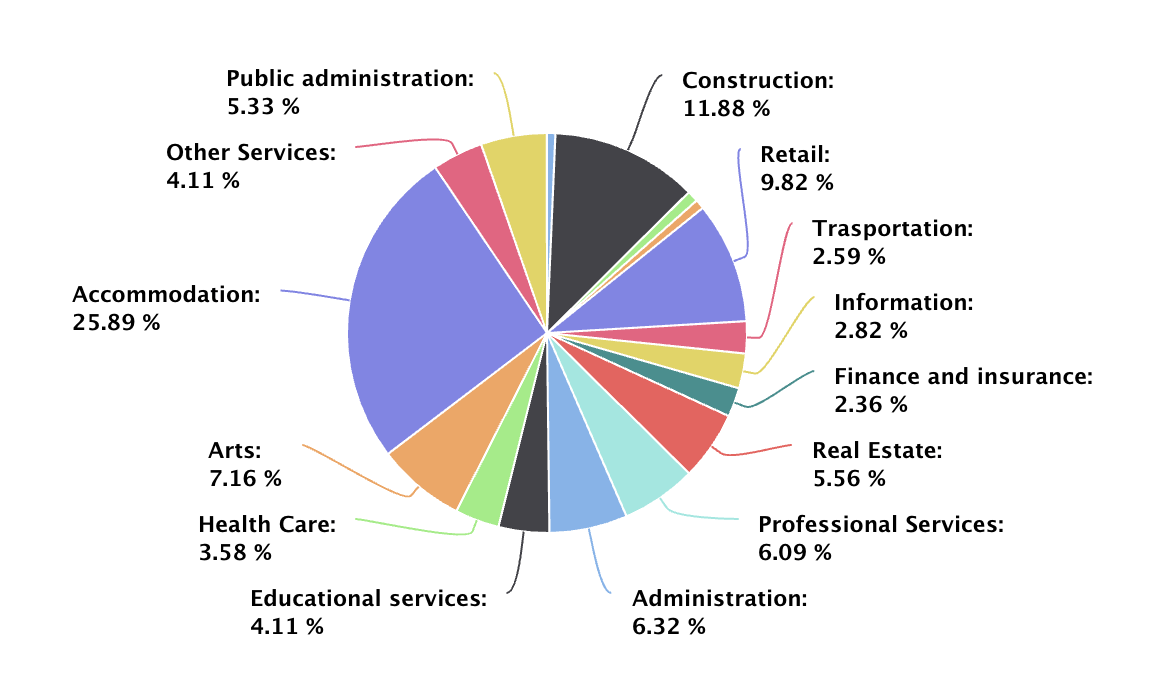 Construction.
Jacki mentioned that there is a common misconception that Whistler is approaching 'buildout,' or that the limit of urban development for accommodation and infrastructure has been reached. In fact, many significant developments are still in the pipeline, and new zoning has been awarded but not yet broken ground. Highlights include a new section of the village earmarked for development, a strategic goal to add a large number of new accommodation over the next 3-5 years (both affordable and high end), and the more immediate housing development at Cheakamus. 
From peeking into the Growth Management sector of the
Whistler Municipality Development and Community Plan,
we found that there is a concerted effort being placed on
"continuing to locate Whistler's urban development within the Whistler valley corridor between Cheakamus Crossing and Function Junction to the south, and Emerald Estates to the north." 
With smaller high-end building projects and renovations seeing strong growth, the Construction industry is a vital part of the Whistler employment market
Professional Services.
We showed the financials that represent the success of Whistler's tourism economy. The great businesses that we have here require a level of functional, marketing, legal, and accounting support to grow to support all of this. From talking with Jacki and looking through open job opportunities, we can see the number of available professional service roles is high for a town the size of Whistler. 
Consider that several high-net-worth individuals reside in Whistler on a temporary and permanent basis, as well as many opting to work from home in their second homes, and you can see there is room for growth in the professional services market over the next few years.
Municipality for the general population.
The Resort Municipality of Whistler, Tourism Whistler and Whistler Blackcomb are the three largest employers in the area. Besides general services that support our population, the municipality's continual reinvestment and upgrading opens many job opportunities to residents. New buildings, improved amenities and living spaces are all required to ensure the ongoing success of the Whistler Resort. Over the next four years, the Municipality commissioned project load is supported with a budget of $85 million. Some of the highlighted projects include: 

Fire fuel thinning and forest management 
Cheakamus urban planning 
Valley trail access and safety improvements 
Increasing electric vehicle charging stations
The arts, culture, and events.
Jacki also mentioned that the arts, culture, events, and entertainment represent a large sector of Whistler employment. You wouldn't expect to see such a well-established arts and entertainment sector in a municipality with a long-term population of roughly 12,000; such is the impact of tourism in the area. 
Tourism Whistler provides the details for seven art galleries in Whistler. Pre-pandemic, the town was bustling with art and creative activities and exhibitions. For example, The Audain in Whistler Village holds a permanent collection of nearly 200 works of art from coastal BC and up to three displays and temporary exhibitions a year.
With a range of large spaces for
corporate and cultural event
s, Whistler has a range of job opportunities in supporting exhibitions, music, recreation and community events.
Outdoor recreation is at the core of what Whistler is all about. A town surrounded by mountains, lakes, rivers and many adventure wired folks to drive one of the main aspects of lifestyle in Whistler. 
Jacki mentioned that as well as operating guiding services, park construction, ski hill maintenance and everything in between, Whistler has been the birthplace of so many successful outdoor brands. It's no surprise when you realise that the locals here are born on skis, bikes and boats; the level of knowledge and expertise is admirable. It's like they're good at everything! 
Arc'Teryx 
Prior Snowboards
Now Bindings
Genuine Guide Gear (G3 Gear)
Chromag Bicycles
Sandbox Helmets
Yes Snowboards
Manufacturers of parts, garments, and equipment have a home here - and what better place to do it.
Future opportunities for long-term residents. 
Given some of the inherent restrictions in population growth and development opportunities for commercial space, future opportunities may look a lot like they do now but on a larger scale. Throughout our discussion, Jacki Bissillion emphasised the need for skilled professionals; there is a massive demand for people here, which is pretty reflective of a growing gap in skills across the province. 
The seasonal nature of tourism here should also be seen as an opportunity; as Jacki puts it,
"the cream rises quickly."
The transient nature of Whistler actually supports quick career growth if you get your head down; if there is anything Whistler locals are known for, it is working hard and playing hard.
The average pay and income in Whistler.
Somewhat lower than other areas, Whistler's average hourly pay for front line employees and junior professionals is reported to be $20.33 by
Payscale
, with
AreaScore
showing that the average gross personal income is $49,000. 
We found the chart below in
AreaScore's analysis of Whistler Household income
. These statistics take the long term settled population's feedback from various Canadian statistical surveys. Thus, second homeowners, seasonal and temporary residents, are not represented here. According to AreaScore, more than 50% of the population earns a household income of more than $60,000, and just over 40% bring in more than $80,000.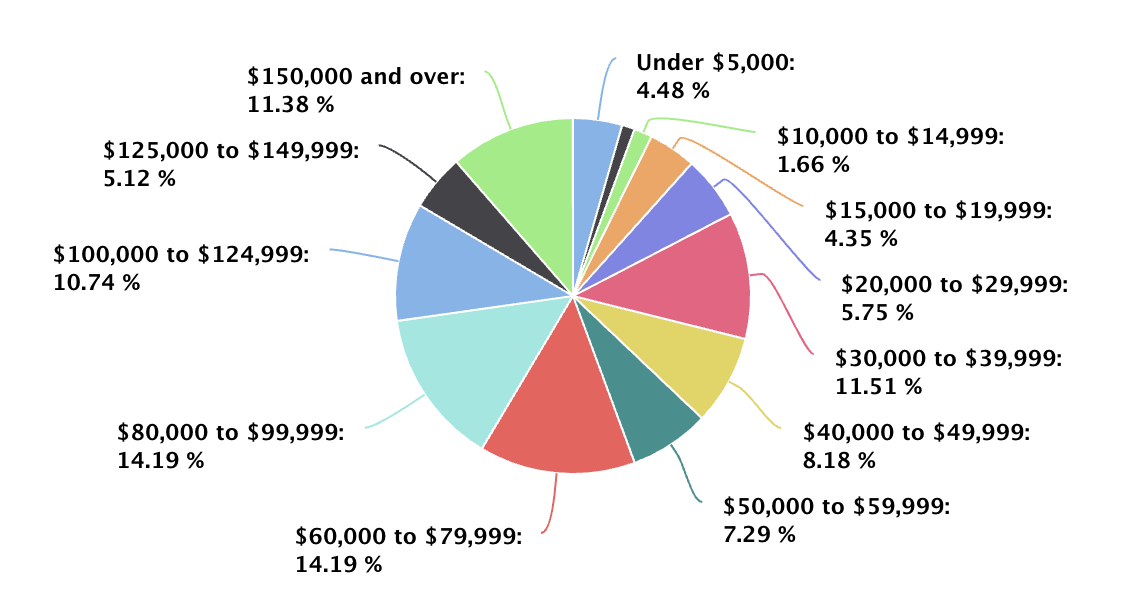 How did the job market respond during Covid?
With so much of the local economy being driven by visitors, the Whistler community was hard hit during the pandemic. Many local businesses we have spoken to mention how well the people here banded together. Jacki echoed this by telling us the community rallied,
"at the heart of Covid, there lived a small town that was very supportive of each other. Small business owners took care of their people, and their people took care of them; this attitude shows why employers in Whistler are some of the province's best." 
With Whistler Blackcomb very recently announcing their early closure for the season in line with Provincial regulations, we can reflect on a winter season in which the local community and resort did absolutely everything in their power to keep things open, accessible and safe. We applaud the Whistler community's effort in the spirit of progress and hope that our incredible businesses can get back to doing what they do best very soon.
Thank you, Jacki and Whistler Personnel Solutions.
We'd like to thank Jacki Bissillion of Whistler Personnel Solutions for her expert insight, research tips and for taking on the audacious goal of matching talented professionals with their dream jobs and enabling businesses to achieve organisational success. Using their skills built up over 25 years, Whistler Personnel Solutions ensures that "both the businesses and the candidates we serve thrive with a perfect fit." 
If you're seeking a role for the short or long term, be sure to reach out to Whistler Personnel Solutions: www.whistler-jobs.com. 
To find your dream home in the mountains or invest in a lucrative property, reach out to us, we would love to introduce you to our community.