Ever wondered what jobs are available in Squamish? Here is your ultimate guide to in-demand job skills and industries set for growth.
Squamish is one of the most incredible places in BC to live, period. Not only does it have a serene setting where the mountains meet the ocean in the Sea To Sky corridor, but it is also a rapidly growing and evolving community that has so much future potential. With this growth and development come changes in identity; once a town dominated by industry and resources, Squamish now has a much more diverse labour market and offers current and would-be residents many opportunities to grow. In this article, we look at the business and employment landscape of Squamish and will seek to give you answers to these questions; 
Employment snapshot - what is the average pay and employment rate?
What geographical and social factors define the work opportunities available in Squamish?
What are the primary industries and labour markets hiring today in Squamish?
What future opportunities might be available in Squamish?  
What skills shortages are there right now in Squamish? 
How did COVID19 impact the job market?
Supported by some tremendous insight by Jacki Bissillion, Owner and President of
Squamish Personnel Solutions
, Work BC, the District of Squamish, and many others, we hope to provide you with a meaningful view of the work opportunities you could find in this particular part of Canada.
What defines the work opportunities available in Squamish?
Geography and History
We've all seen towns and cities grow, redefine themselves, and as a result, require a range of skill sets to support the population and grow the economy. When we look at Squamish today, we see a town with unique geographical positioning, firm history and culture, and a growing population. These individual elements help provide an overall picture of career opportunities available in Squamish and which industries could grow in future.
Squamish has a truly unique location for many reasons. Firstly, it sits on an intersection along the Sea To Sky corridor where the mountains meet the ocean, its landscape gouged by retreating glaciers at the end of the last ice age. You could say the availability of natural resources has given Squamish some of its defining characteristics, so too has its positioning on the ocean, which allows easy transport solutions for these resources far and wide.
The Squamish Historical Society describes how, for over a century, Squamish was
exploited for its resources to benefit local life
. As the community has changed and efforts have been made to scale-back resource mining to more sustainable levels, Squamish land's interest has also changed (but not diminished). Now, Squamish is valued for its natural characteristics; the mountains, the ocean, the trails; all of these creating a home for great lifestyles and a destination that many want to visit.
This sentiment is echoed by Jacki Bissillion, Owner and President of
Squamish Personnel Solutions
, who sees trends in the employment market that mirror the change over time from mining and resource extraction to tourism and residential development.
Jacki Bissillion has been running recruitment operations in the Sea To Sky for 25 years and has had first-hand experience watching the community develop. 
"Growth is very much a theme of Squamish - over the last decade, this community has boomed. Clearly, it offers incredible lifestyle opportunities in its own right, but its unique positioning between Whistler and Vancouver supports this growth. If Covid showed us anything, it is that a picturesque 45-minute commute to the city or the resort is well worth it for the incredible lifestyle upgrade that it provides."
As such, Jacki described how the increasing volume of residents shapes the labour market - jobs that help service this population are on the rise. We are frequently recruiting for skilled professionals to fill local positions such as educators and childcare workers, veterinary staff,  experienced service managers, dental hygienists, skilled-trade workers and legal and financial professionals. 
"A client of Squamish Personnel Solutions who operates a legal practice in Vancouver just opened up an office in Squamish due to local demand for its services; I expect to see a few more professional services firms opening up offices here."
What are the primary industries and labour markets in Squamish today? 
We picked this up again with Jacki, who links employers and employees together in Squamish, playing her part in our community's progression. Our opening discussion centred around the development and servicing of the growing community; to that end, Jacki described a few big industries hiring for the foreseeable future.
"There has been and continues to be huge growth in construction, particularly in the residential sector. I'd say that this is the industry that is growing the quickest. With other commercial projects such as plants for carbon filtering solutions also underway, there are plenty of roles across all bands available."
The District of Squamish, in their
Emerging Sector Roadmap and Action Plan
, highlight
The Green Economy
(clean technology, renewable energy, green building, and agri-foods) and
Outdoor Recreation
(digital media, marketing and film, recreation technology and design) as two key emerging industries for the area. The goal of the District's plan was to highlight key areas of development, discuss ways around roadblocks and lay out a strategy for continued growth. This gives us an excellent idea of what opportunities Squamish residents can expect in future.
Supporting Jacki's narrative and the plans laid out by the District of Squamish, AreaScore provides a supplementary overview of the spread of the
Squamish labour force over various industries
as provided through census reports. We can see a broad mix of population supporting services, including construction, amenities, advanced sectors and tourism; plenty for our residents to choose from.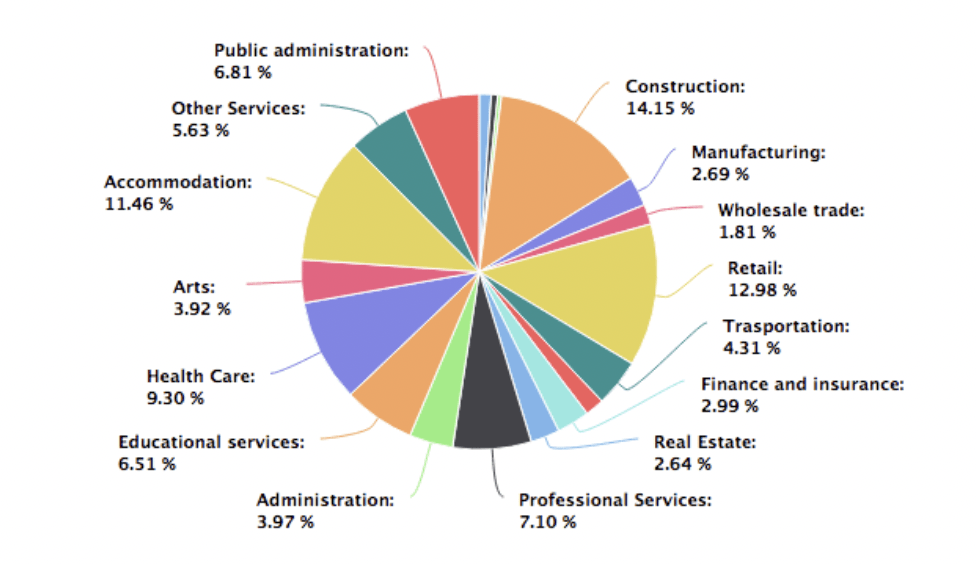 To dig into these a little deeper, we're going to highlight the two key areas we've mentioned before; tourism and construction. Read on to see why these sectors are offering many opportunities to current and soon-to-be Squamish residents.
We already covered part of the strategic plan that demonstrates opportunities for green energy construction will be on the rise. You only need to look at the Squamish real estate market to understand the residential building activity scale underway for more immediate opportunities. Check out some of the developments underway using our MLS Search.
Another great resource is the
Squamish Community Development Plan
, highlighting large, undeveloped areas with urbanisation potential between now and 2040. As well as residential building plans, this plan covers flood defences and transit projects. We'll need plenty of humans to get through all of that! 
The much-anticipated re-shaping of the Oceanfront in Downtown Squamish is one of the projects Jacki Bissillion is most excited about. "We're totally revitalising downtown, new businesses are popping up all the time, and this project specifically will provide so much opportunity." 
Newport Beach Developments took over ownership of the land in 2016; this project plans to include a wind sports beach, a sailing centre, community open space, a public art contribution of $150,000, and more.
With more than a million things to do in and around Squamish, it is not surprising that people are travelling from far and wide to come and do them. The tourism industry is booming in Squamish and continues to grow. 
Outdoor guiding, recreational stores, accommodation services; all of these, and more, will continue to experience growth. On the tourism sector, Jacki mentioned, "the hospitality and retail sectors are increasing. Jobs for skilled retail and service industry managers are growing; this includes opportunities in middle to upper management." 
Skills shortages in Squamish
While there might be many opportunities, Jacki mentioned that employers face issues in filling some of their vacancies. These difficulties, in part, are representative of global trends and the diminishing population of skilled workers. Trades and skilled technicians are in high demand here in Squamish. 
Carpenters, electricians, plumbers, healthcare workers, teachers, and so many other skilled professions will find ample opportunities here to provide an excellent lifestyle for you and your family. Squamish is waiting for you!
How much you can earn in Squamish
The average hourly pay in Squamish for front line employees and junior professionals is $23.14, as reported in
Payscale.
With salaries included, the average employment income in Squamish is said to be $52,621, according to
AreaScore
.
AreaScore also looked at household income in Squamish; the majority of households (13.11%) bring in anywhere from $80,000 to $99,999 a year; 12.96% of households earn $60,000 to $79,000, and 12.73% of households have an income between $100,000 and $125,000.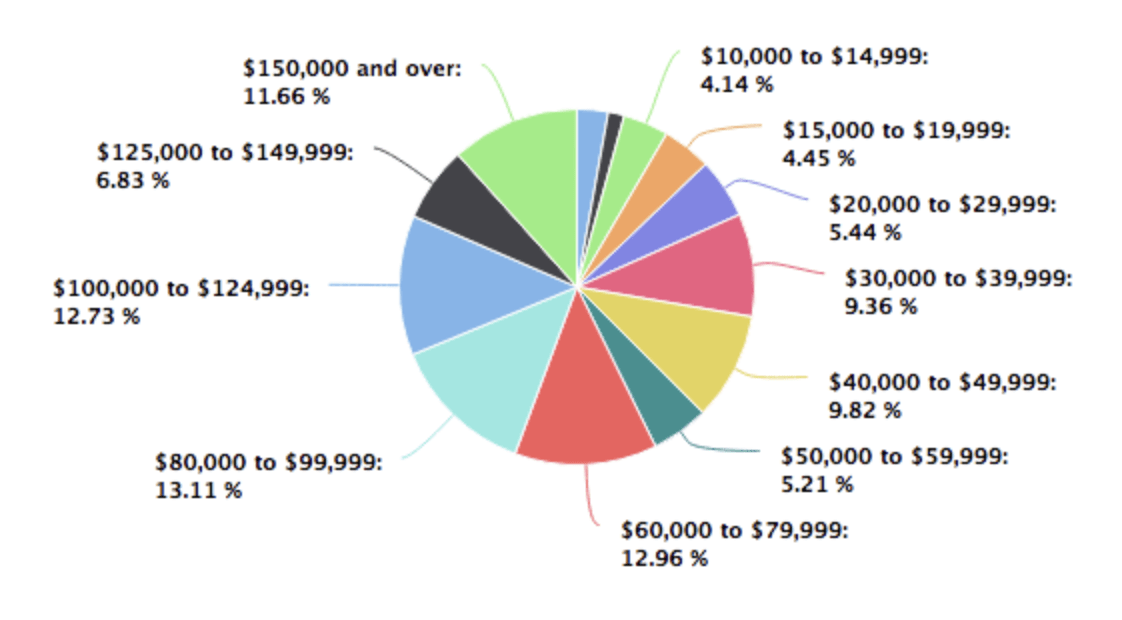 The District of Squamish has a great set of Economic Development metrics on their website; the
Economic Development Community Dashboard
shows that the number of residents employed locally is 78.1%. The unemployment rate factors into this, as does the number of Squamish residents who work further afield in areas such as Vancouver. The District also reported that the number of households spending more than 30% or more on their home is 25.8% (as of 2016).
How did the Squamish job market respond to COVID19?
We were intrigued to see what impact COVID19 had on Squamish, given that we've shown the key industries in Squamish to be tourism, construction, and servicing the local population. 
Jacki told us that of course, Squamish felt an immediate impact, especially in the tourism and retail sectors. However, there were areas that continued to hire and if anything, experienced staff shortages. "Construction and the public sector showed strong demand for workers, there was a real shortage of Educators and Teachers all along the sea to sky. Obviously, health services were in need, but as Squamish continues to grow, public sector services, in general, continues to seek experienced employees." 
Jacki also mentioned that there were more government funds allocated to parks and recreation. Specific examples shown in
Pique Magazine
include $366,347 funding for Tourism Squamish for a Sea to Sky visitor education initiative through the destination development stream. As well, $65,642 to upgrade the mountain bike skills park at Brennan Park Recreation Centre.
Thank you, Jacki and Squamish Personnel Solutions
We'd like to thank Jacki Bissillion of Squamish Personnel solutions for her expert insight, research tips and for taking on the audacious goal of matching talented professionals with their dream jobs and enabling businesses to achieve organisational success. Using their skills built up over 25 years, Squamish Personnel Solutions ensures that both the businesses and the candidates we serve thrive with a perfect fit." 
If you are in the market for a job, some career advice, or support with your resume, head over to their website at
Squamish Personnel Solutions
. As always, chat with Sea To Sky Dream Team Squamish expert Kristen Dillon, the top local Real Estate Agent, to find the home of your dreams.