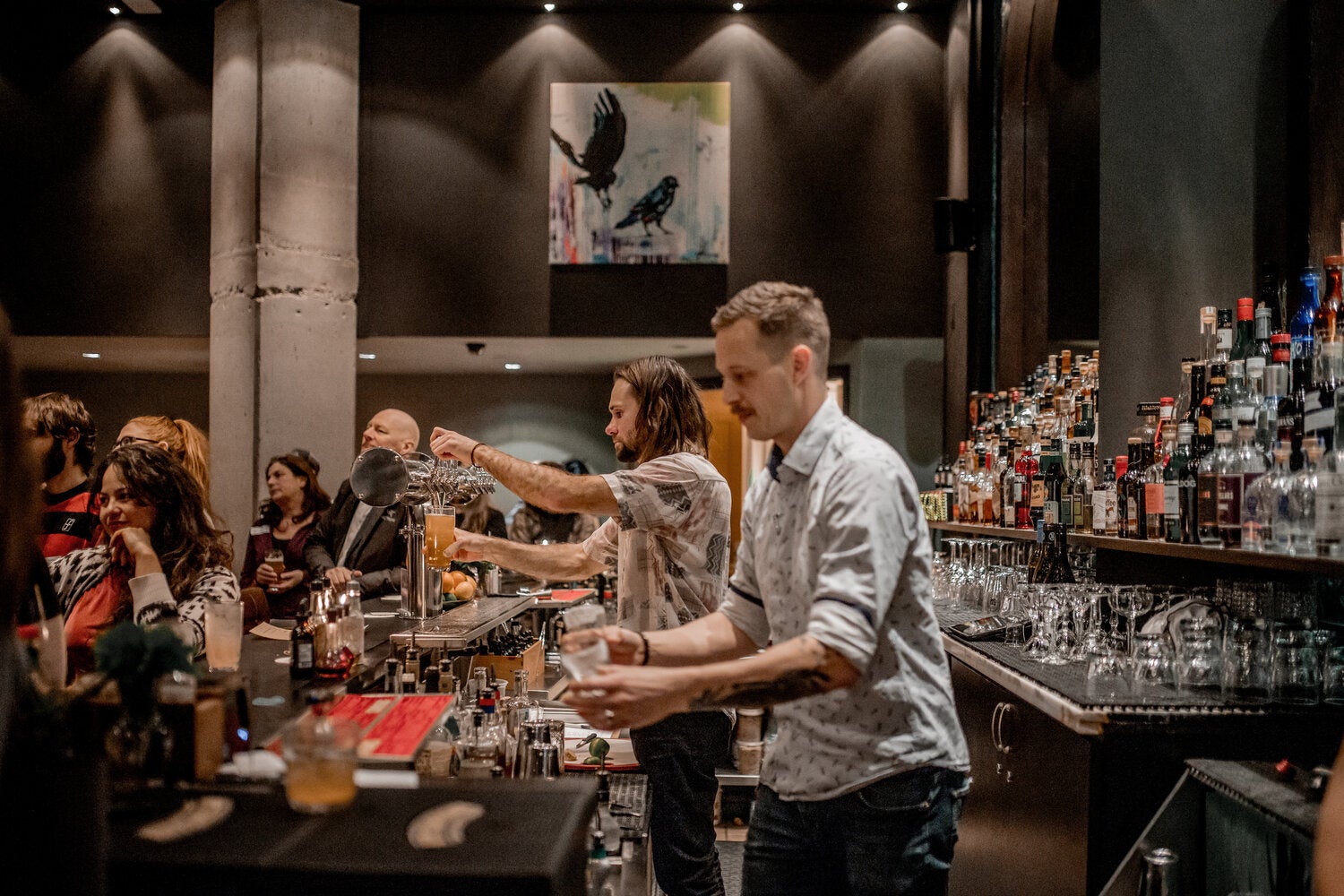 Featured image credit: Zoe Lomoro. Estimated read time: 10 minutes. 
"We're two married couples working together, what could go wrong?"
When you think about it, that could spell disaster, but those who frequent The Raven Room in Whistler, or those who may have passed by after a day on the mountain, know that the team haven't missed a beat since opening two years ago. The bond between the four founders seems to have shaped an atmosphere that makes any patron feel right at home, whether they're local or from further afield. 
Jason and his wife Stephanie, and Brandi and Luke Woodnutt, have built something exceptional here in Whistler (and not for the first time). If you have been living under a rock you may not have heard of this place just yet, so we implore you, go check it out when it is safe to do so, and you're next in town. You'll likely bump into me (Dana) as I am a passionate supporter of The Raven Room, so I was so keen to share their story with would-be and long-term locals. 
We caught up with Jason Redmond, co-founder of The Raven Room, who talked to us about all things Whistler. We discussed the team's uncompromising approach to quality food and drink, the experience they have had since they re-invented their space in the Pan Pacific Hotel, and that Whistler's favourite bird is not the one you see on Instagram. 
That is probably enough preamble. Let's get into it.
It starts with a name: tipping their cap to a Whistler icon.
We were intrigued to hear about the story behind the name before discussing the team's vision and values. 
"To begin with, we were thinking of something strong, perhaps one word that could act as a stamp. We originally thought of 'Garnish,' but quickly realised that it didn't quite fit our vision. Even though it is an integral part of our cocktails, generally speaking, not many bars in the industry take the garnish seriously, so we decided against the name."
Jason continued to recount the day that he and Luke were chatting together when it dawned on them both, the perfect name lay in the connection to a Whistler icon.
For context, some might tell you that the iconic bird in Whistler is the darling little Whiskey Jack. Whiskey Jacks are commonly found in the depths of Instagram perched atop a ski pole (we must quickly point out that interacting with these birds in this way is not recommended as it reinforces ecosystem altering behaviour). 
Whistler locals, however, share a far stronger connection with the Raven. "Often when I'm on the mountain I see a Raven, usually around Crystal and Peak chairs. Locals often experience these Ravens following them, and there is a belief in mountain culture that if you've lost a friend out there, it is them," Jason noted. 
We discussed the painful loss of a much loved Whistler local, Jesse Van Roon, who passed away in early January while out on the mountain. "We knew right away we would support his family, so we donated all proceeds from every old fashioned we sold the next weekend to them. The old fashioned was Jesse's favourite drink when he joined us at The Raven Room." 
Going back to the day that they chose this name, Jason told me that he and Luke were in the Village when a Raven flew by, "Luke has one tattooed on his arm in memory of a friend. It suddenly dawned on us that this was the perfect name. Also, ravens by nature are intelligent, cheeky, and often seen as tricksters, so we liked how this fit with our take on the bar." 
"We're in no way corporate, we like to have fun, and we've got high standards." 
Elevating the Whistler food and drink scene. 
Whistler is a world-class resort. For Jason, a sense of complacency took hold in the industry, which inspired them to do better. The endless stream of visitors creates a stable level of customers for businesses in Whistler, but The Raven Room team didn't want to take this for granted. They wanted to elevate the standards in Whistler and aimed to create a vibe where nobody is assumed to be a tourist.  
"We wanted to create a home for proper cocktails and proper food, a place where people feel like they are prioritised, and that they matter." 
The impact of this can be seen across the town as raising the bar has brought about healthy competition amongst local businesses. "At the end of the day, all local businesses are pulling in the same direction. Whistler is a world-class resort, so people deserve world-class hospitality. But our amazing community deserves a home too, and we want our locals to know they are cared for and looked after here."

World-class cocktails, atmosphere and food. What a line-up! Thanks, Leah Martin & Mirae Campbell @theravenroom.ca
A big part of their initial success was down to word of mouth and the local community's unwavering support. To this end, Jason described the excitement of the night of their soft opening.
"We finally had our bar fully set up, our kitchen ready to go, and our team in place; everything seemed to be on track for a soft opening. The final piece was our point of sale system that was meant to be ready for opening day. It wasn't cooperating,

but that wasn't going to stop us

. We sent out a few texts informing friends that we would be opening that night with a cash-only bar. Shortly after, the place was packed with locals." 
It takes a lot more than a cash bar to retain the interest of Whistler locals, however. While this community is well known to jump behind new ventures and offer their support, it is not because there is a shiny new thing to play with. The community here has high standards too, so Jason and the team set about exceeding these expectations. 
"We just want locals and tourists to be genuinely stoked for what they are eating and drinking." 
And stoked they are! Instant success on the back of hard work has followed The Raven Room since opening, notably two Spirited Awards nominations in 2020 for Best International Hotel Bar and Best New International Cocktail bar in regional honourees through the
Tales of the Cocktail Foundation
. 
Tales is an annual celebration of the world's best cocktail bars, "to be mentioned in the company of the world's best bars was pretty exciting for us, and it certainly was one of the goals we set out to achieve," Jason told me.
The Raven room has also snagged back to back "Best Cocktail" awards in
Pique Magazine
, as voted by the local community. It looks like they might need a trophy cabinet soon!
An uncompromising commitment to quality. 
As Jason pointed out, their vision was to elevate the standards in Whistler. From the warmth of service to their food and drink, it seems all the fine details have been carefully curated - which is no easy task.

An award-winning drinks programme.
"I ripped out the cocktail gun in my last place, it stood for the complacency I mentioned earlier. Nobody wants to take time choosing a $15 to $20 cocktail and see it shoot out from a gun. At The Raven Room, we only use high-quality spirits, and everything is fresh." 
Jason and I talked about how important squeezing fresh lime is and how it adds to the process's spectacle. "Cocktail making is an art; it is a process that assaults your senses from start to finish. You hear the bartenders smashing ice to pieces on the bar, you feel the rhythm of the shaker, and you see the final product before you even taste it." 
"We get so many questions from intrigued guests; What's he making? What are those two people drinking? No, I don't like gin, but I want one of those," Jason commented. 
Picking the right ingredients is crucial, and with an abundance of world-class distillers and wineries in the local vicinity and across British Columbia, we're spoilt for choice. However, this makes it hard to refine a menu, but Jason and the team all know the highest quality craft can be found close to home. 
For their wine list, The Raven Room opt for producers that offer low-intervention, natural and organic wines that are defined by a 'hands-off approach.' Anthony Buchanan, a producer in the Okanagan, is one of Jason's favourites. He's enjoyed inviting Anthony over to chat through their wines with customers and help match them up with a great dinner.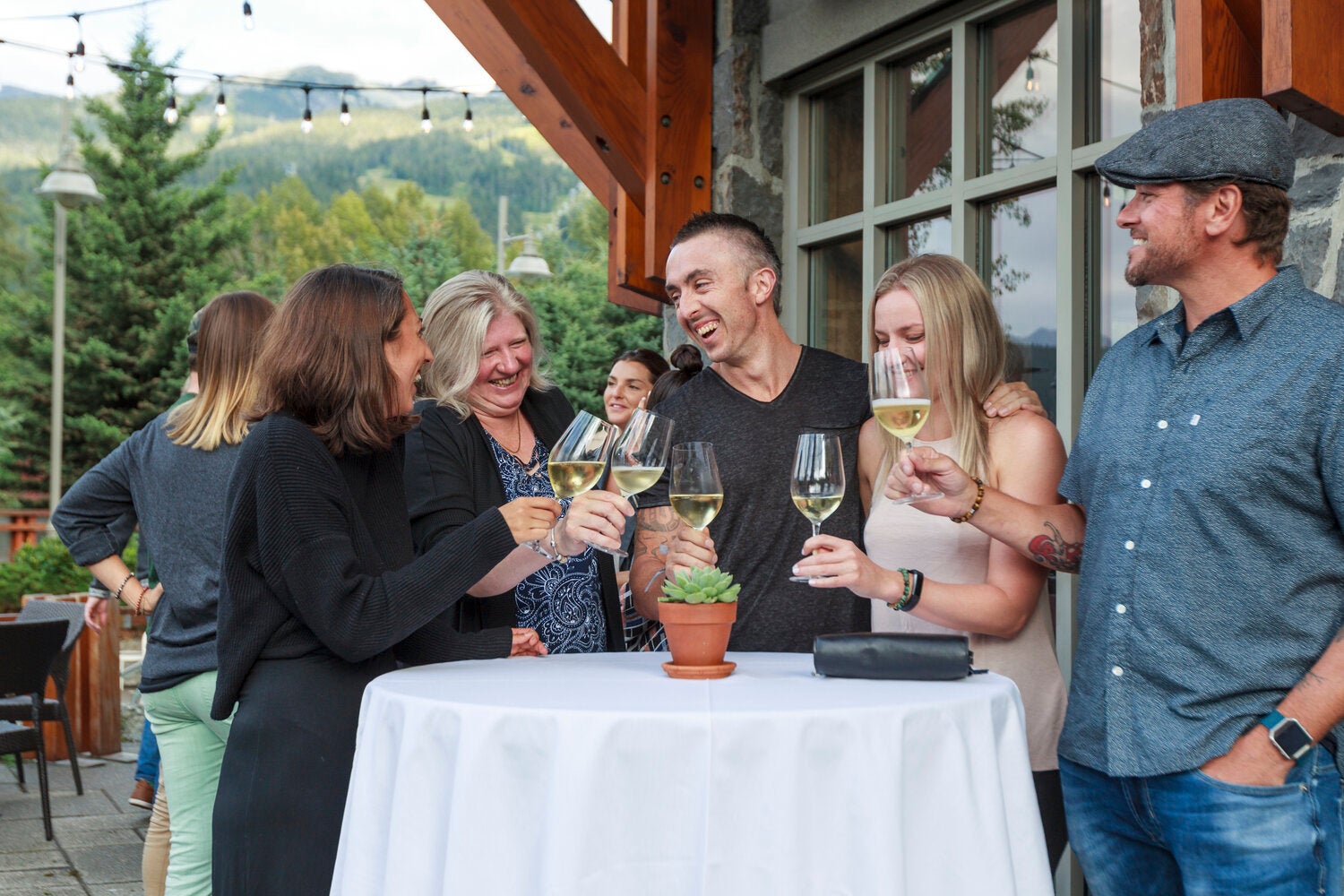 Whistler, BC; Aug. 13, 2019: The Raven Room winemaker's dinner featuring Anthony Buchanan's award-winning wines accompanied by Executive Chef Erin Stone's perfectly paired four-course dinner. Photo: Joern Rohde/www.joernrohde.com
You won't find any major producers on their beer and spirit list either, unless absolutely necessary (apparently there aren't many local distilleries producing tequila?). One such local gem and Whistler community favourite is
Coast Mountain Brewing
. 
The Raven Room always keeps something of Coast Mountain's lauded line-up on tap. In the coming weeks, they'll be pouring a rather special award-winning brown ale that has been named in honour of one of the team. That's right, 'Woodnutt Brown Ale,' the winner of a Canadian Beer awards bronze medal and Brandi Woodnutt's namesake, will be flowing in The Raven Room soon.
Could you drop me a text when it does, Jason?
A chef whose timing was, and is, perfect.
When you take a look at
Head Chef Erin Stone's Instagram page
, you'd be right in thinking that Jason must have worked hard to bring her on board. After reading this, the first thing you should do is to go and look at the vegan blueberry and lavender cheesecake on Erin's page. Then, come back here and share this article with your friends… 
I asked Jason how he came about finding Erin.
"Really, it actually isn't that exciting of a story." Sorry readers, you were expecting something better than that weren't you?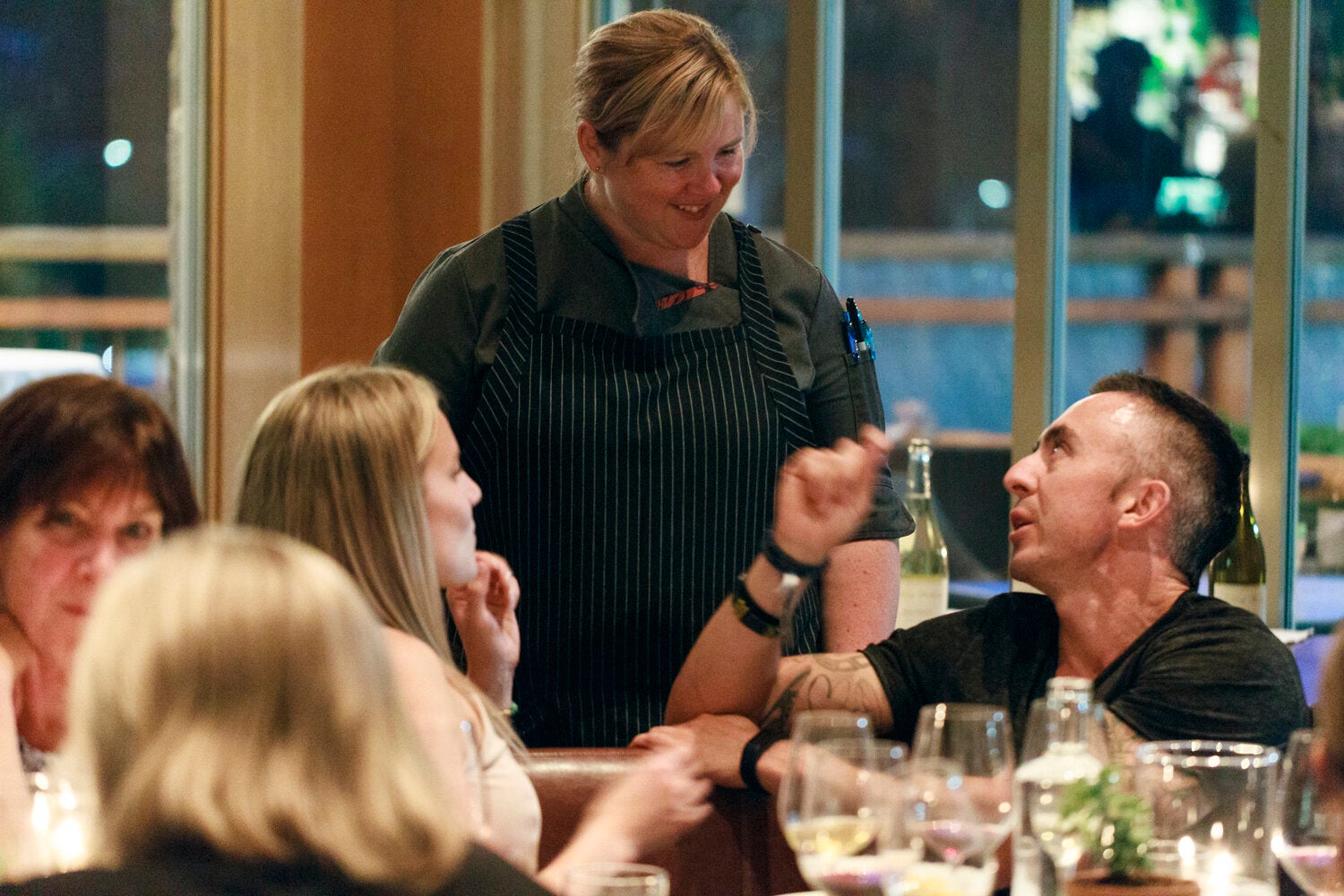 Whistler, BC; Aug. 13, 2019: The Raven Room winemaker's dinner featuring Anthony Buchanan's award-winning wines accompanied by Executive Chef Erin Stone's perfectly paired four-course dinner. Photo: Joern Rohde / www.joernrohde.com
"One of our staff knew a rising star, so we reached out to Erin, and it turned out the timing was right. Erin has been a huge part of our success and has raised standards in the way we envisioned. She's also been instrumental in shaping a menu that caters far better to vegetarians and vegans. Instead of simply substituting items, Erin focuses so much time and effort into making that dish unique." 
As they do with their sourcing of suppliers for their drinks menu, Jason and Erin seek out the highest quality, locally grown ingredients for their food. We really are lucky out here, aren't we?

How The Raven Room dealt with 2020.
We know the dumpster fire that some are calling '2020' isn't a year we particularly want to regurgitate. However, given the context of this discussion and our aim to show you what it is like to be a part of this community, we were intrigued to see how The Raven Room, and Whistler at large, responded. 
"The first lockdown came on St Patrick's Day. Obviously, the feeling was a bit like shellshock. Uncertainty and a lot of emotion were felt across the community; people lost jobs, so it was a really rough time. We're no different from other communities in this sense. However, we did feel like Whistler at large quickly pulled together in the same direction."
Mental health has finally been brought to the forefront in recent years; the pandemic seemed to accelerate much-needed discussions. Added to this is the fact that the restaurant industry, in general, has quite a stoic approach to mental health conversations. So it was inspiring to hear how The Raven Room team continued to support their staff in meaningful ways.
"With our revenue going to zero and uncertainty amongst the crew, we knew early on that the reopening would never heal this shock," Jason noted. "Mental health and general wellbeing is a core focus of our approach to staffing. We constantly have the conversation in our workplace and make sure we're checking in daily with our team. Often, it can take a few questions to really uncover how somebody is feeling, hearing 'I'm fine,' isn't enough for us. It is also essential to understand how comfortable somebody is with growing infection rates in the area, so if they're concerned, we're here to support them." 
Jason also enlightened me about how they make sure their staff are really making the most out of their life in Whistler. The quality of life here is high, and The Raven Room team have a vested interest in ensuring their staff are experiencing the best of it.
Are you hiring by any chance, Jason?
The unique Whistler community. 
What remains clear is that the Whistler community as a whole is held in high regard by the team. "Local love has been a big part of our story. We're small and locally operated, now more than ever our friendly community are deciding to spend their time and money in places like this. We've benefitted and so has the community of local business owners at large, without it, we wouldn't have been able to stay alive." 
Jason has been in Whistler for 20 years and has seen the local population base grow. On the changing nature of the town, Jason told us "gone are the days of a shoulder season, where tumbleweed would pass through the town. The summer activities and the number of visitors appeared to overtake the winter attractions around five years ago. The strong development of tourism has been able to better support year-round opportunities for locals." 
"You can really feel that there is an established community year-round, despite there being countless visitors. One of my favourite things about summer in Whistler is the beach volleyball league; we get around 300 members playing 5 nights a week at Rainbow park." 
Jason's words certainly dispel the common misconception that the Whistler community is solely transient and seasonal. While this does indeed talk to a proportion of the people found in Whistler, the growing population of full-time locals are building on an already excellent quality of life for established and new residents here. No wonder the real estate market is booming! 
Thank you to Jason and the Raven Room team.
We want to say thank you to Jason for taking the time to share the story of The Raven Room and giving us a valuable insight into life in this amazing community. If you're a local or somebody looking at moving into the area, make sure you head over to meet Jason and the team. You'll be met with warmth, an intense display of cocktail artistry, and food that will make you forget to take a picture of it. 
We love sharing the stories of the Whistler community and its people, so if you have one to share, reach out to us! If you've felt inspired to see what Whistler has to offer for you or your family, we would be more than happy to help you navigate the real estate market.
Until next time, Whistler!