FIRST LOOK: WHISTLER'S PANGEA POD HOTEL
Guest Blogger: Feet Banks

If you thought buying your Whistler dream home took a lot of paperwork, check this out – 
Before they could even get started building Whistler's new 
Pangea Pod Hotel
, Russell and Jelena Kling needed to get 450 different real estate deals
done, requiring over 1100 separate signatures.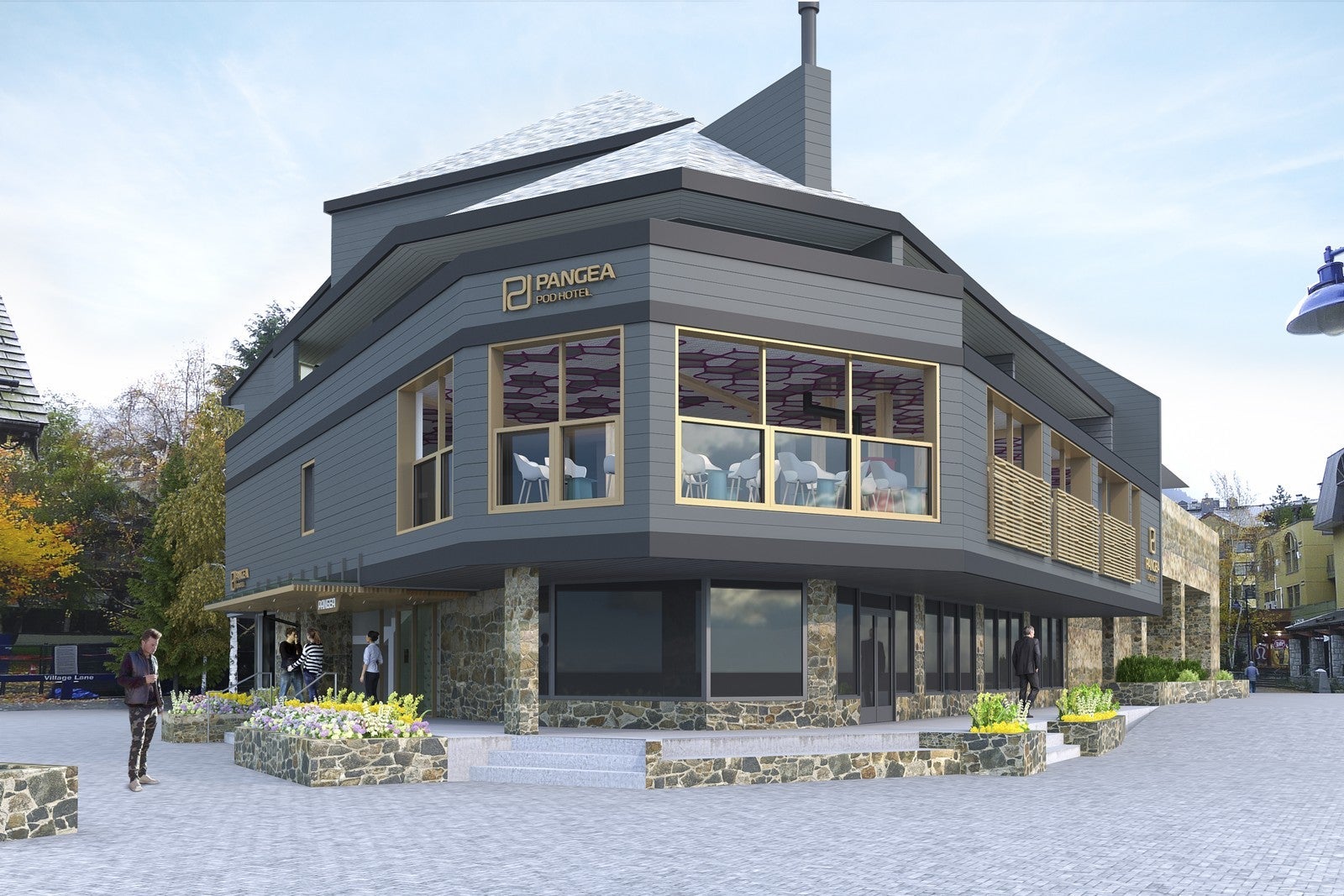 Located on the Skiers Approach section of the Village Stroll in the original Whistler Village, Pangea is just steps away from the ski hills/bike park and within easy walking distance of Lost Lake Park and the Whistler Golf Course.
The Klings wanted a good central location to build Canada's first boutique Pod Hotel, so they took over one of the original Whistler Village timeshare buildings. An ideal location, but with a unique challenge. With nine timeshare units sold in one-week slots for 50 weeks a year, that meant the building had 450 separate titles.
"But many of these units were purchased 4 decades ago, Russell explains. "Some had had been transferred to children, lawyers, trustees, etc. When it was all said and done we needed more than 1100 signatures. That took a while."
Now–after five years of paperwork, design and construction– the Pangea Pod Hotel is almost complete. Featuring 88 designer pods, the couple's vision for the property is to offer a unique new accommodation option for Whistler guests traveling solo.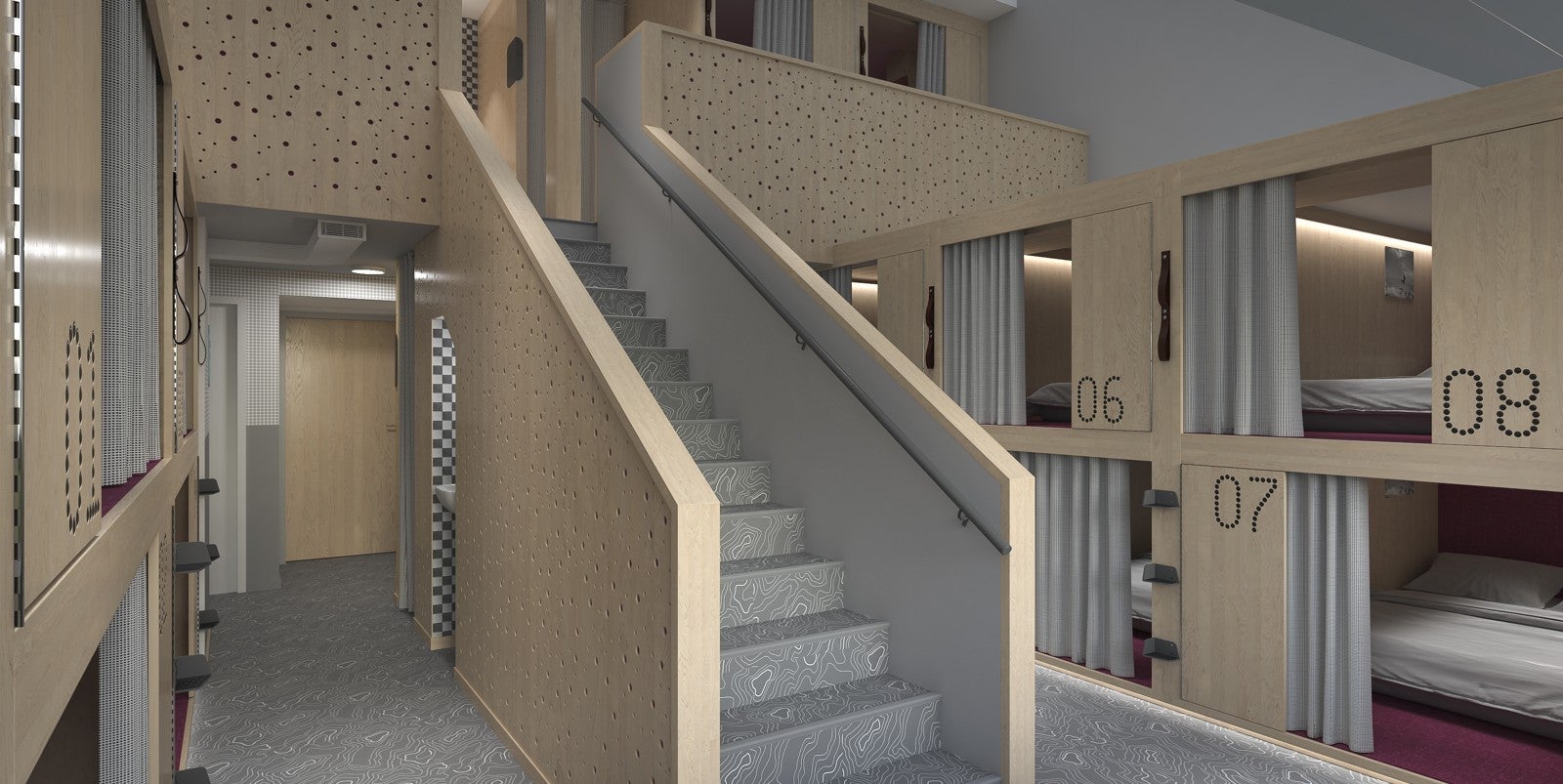 A rendering of a Pangea Suite, a secure grouping of between 8-18 sleeping pods and washroom facilities.
"The way I like to explain it is to imagine you can walk into a boutique hotel room and get rid of the stuff you never use," Russell says of the Pangea concept. "The important stuff is a bed, secure storage, and a washroom.
"Things like the writing desk, double-wide closet and overstuffed armchairs didn't make the cut. Instead, the sleeping pods themselves include a double bed, a fan, clothes hangers, secure storage, a mirror and USB and standard charging points. Pods are also tall enough to sit up in comfortably and are grouped into "suites" which are self-contained sections that hold between 6 and 18 pods. Only those guests staying in each suite will be able to access it and Pangea also offers a female-only suite.
But don't call it a hostel, the concept behind Pangea was to take the best elements from a multitude of different accommodation options and mash them together into something new.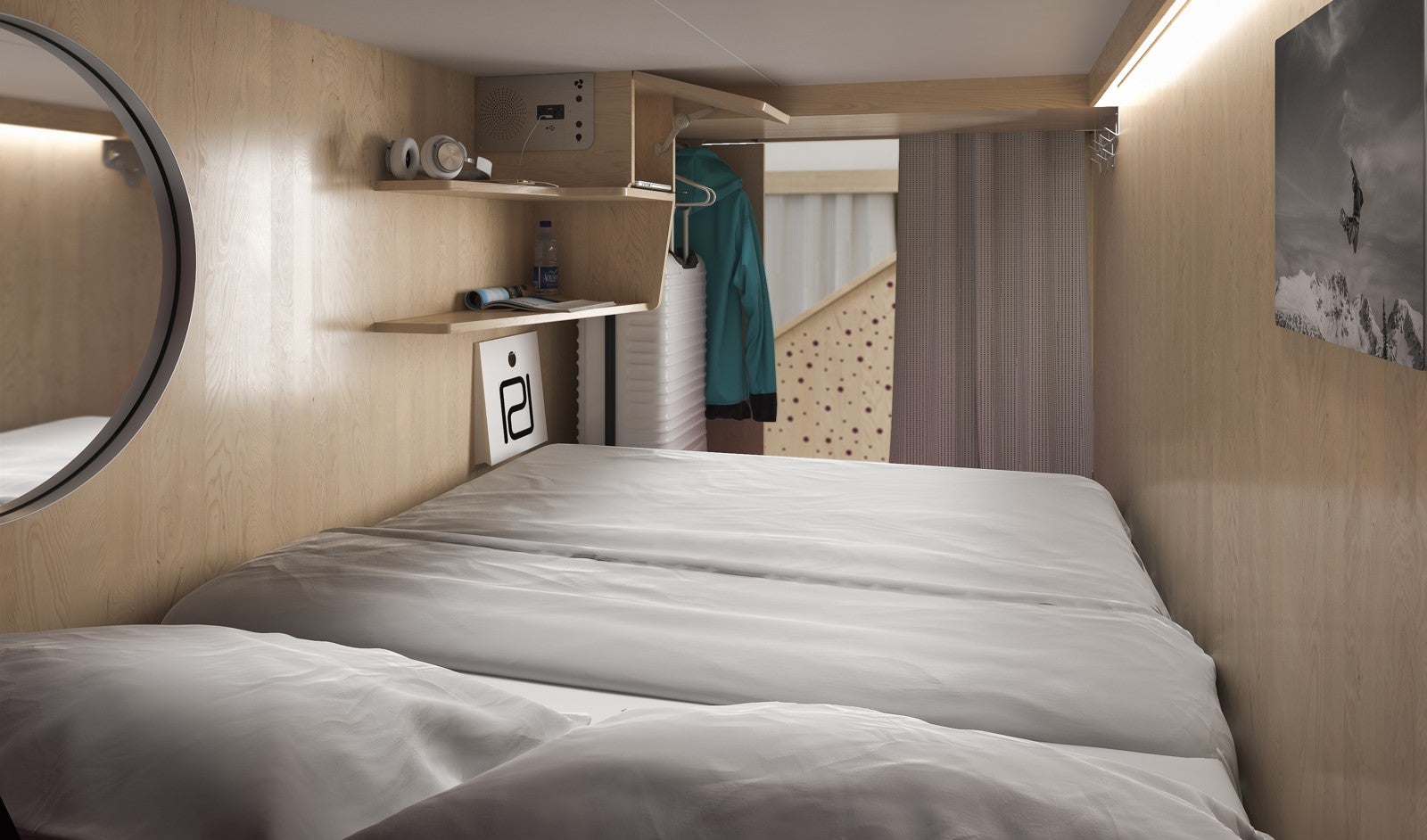 High style. A big part of the Pangea concept is the emphasis on design and style. Everything has a function, looks good, and feels right. (note the sick photo to inspire your own pure mountain radness.)

"I met my wife in a hostel in Prague," Russell says. "I've got nothing against hostels. But what we wanted to do here is build something that fits into that gap that exists between a hostel and a 3-star hotel. Something for active professionals that isn't beyond their price point. Jelena and I were fortunate enough to spend a few years travelling together and we stayed in tons of properties that inspired us. We tried to bring over the best ideas we saw over those three years on the road." Pangea is focused on good location, privacy at night, and a cool vibe that speaks to today's traveller.
"People come to Whistler to play," Russell says. "So location was critical–walk to the slopes or bike park, walk back to shower, then back out to the watering hole or restaurant. We want the suites and pods to be tranquil and guests can do all their interacting in The Living Room or The Rooftop Bar. Storing gear is essential so we built a space we call The Toybox, locked secure space for bikes, boards, everything and private lockers for gear."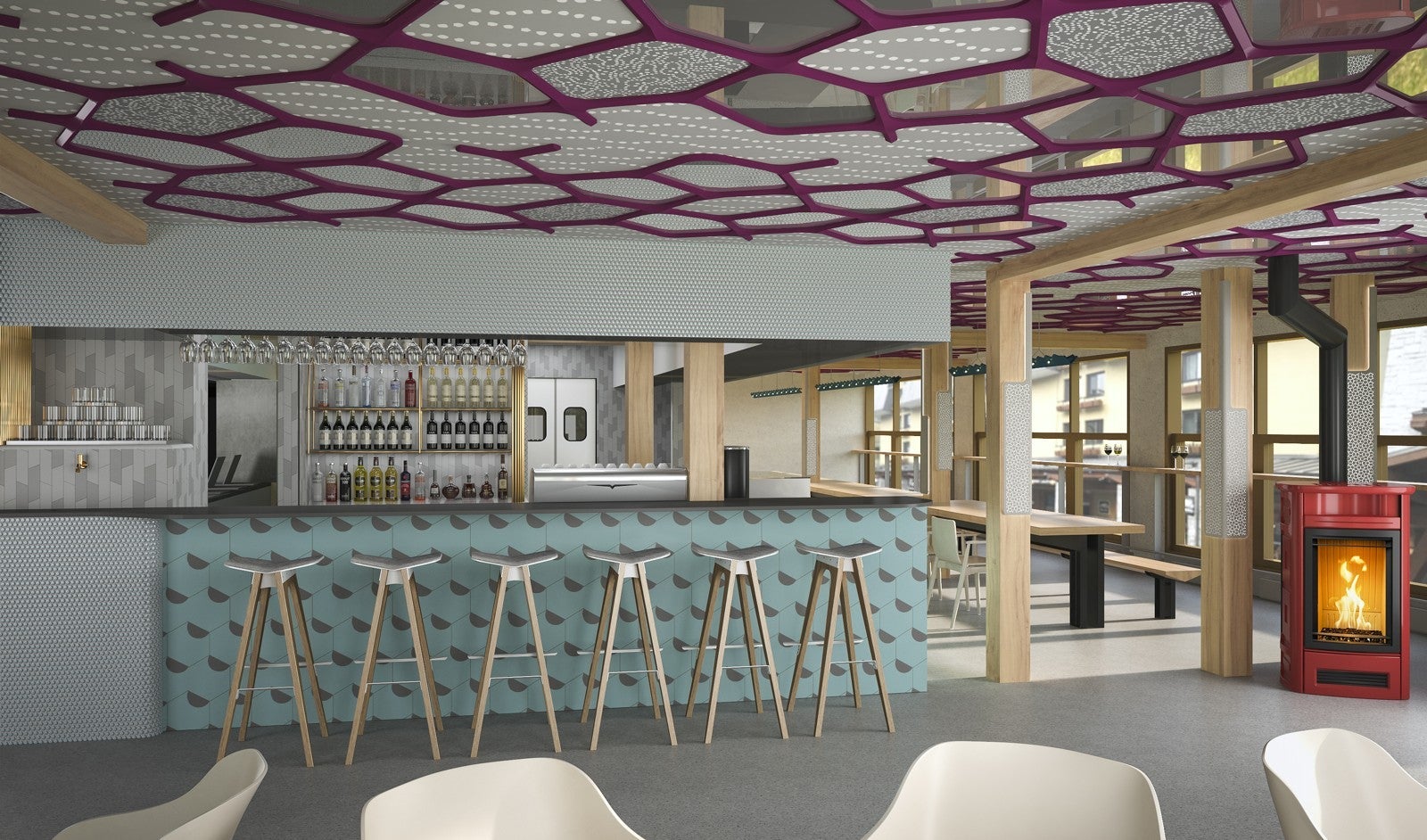 The Living Room, a gathering spot/cafe/bar where friends can be made and mountain plans can be hatched. The wall of windows looks over Whistler Village.
The Living Room is a second-floor space, open to anyone, with a bar/lounge, café, espresso bar and great views of the Village stroll. The Rooftop Patio is unlike any other spot in Whistler, high above everything with clear sightlines to the Village Square and the ski hills.
"I think there is an understanding or a global acceptance these days," Russell says. "If you look at shared workspaces or the tiny homes there's a sense that you don't need 10,000 square feet to be happy. If your space is well designed and you are surrounded by enthusiastic people it presents a new vibe and a different mindset. That is what we are going for with Pangea."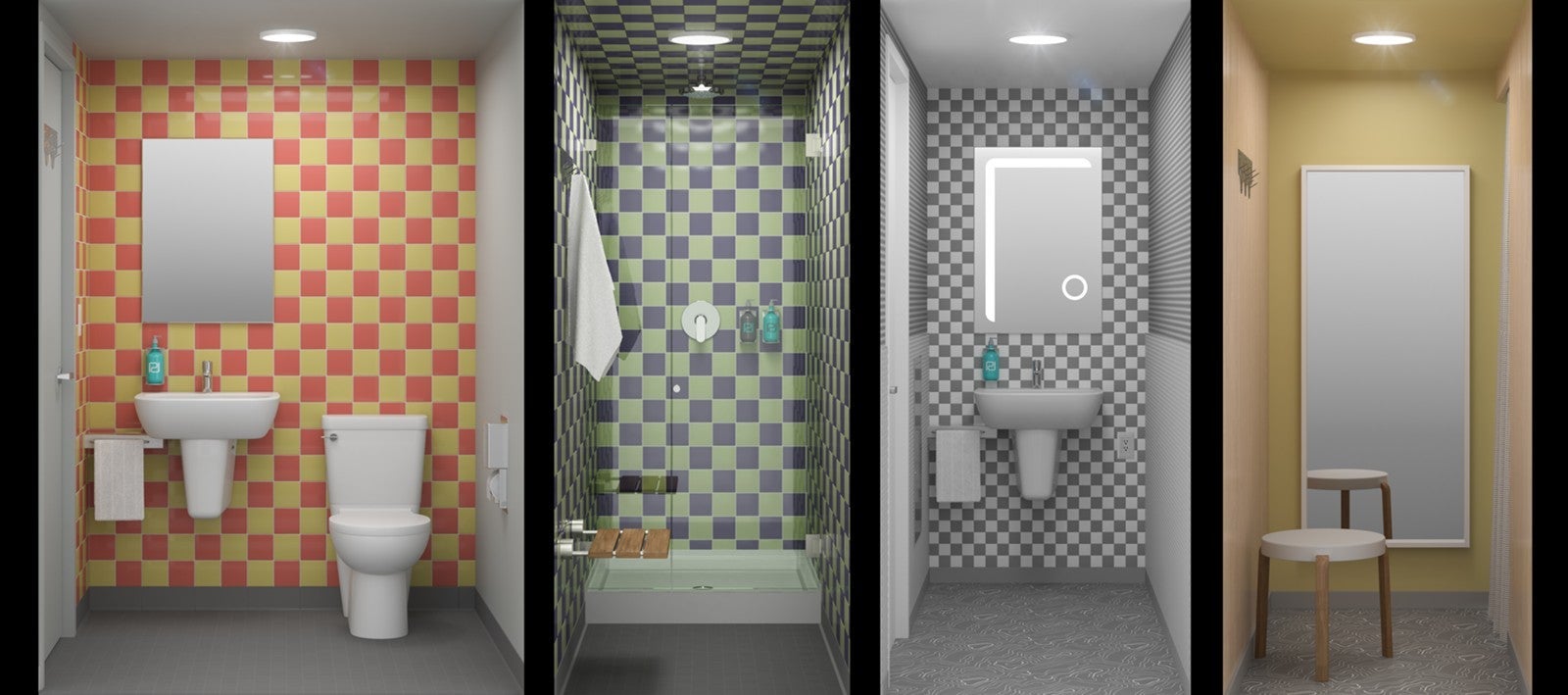 This is brilliant. There's a washroom for every four guests but Pangea has separated each component so that if someone is taking a shower you can still use the toilet, vanity or change room.
The Pangea Pod Hotel will see the end of construction in late spring/early summer 2018 and plans to be fully operational and humming by August 2018. 

Is this the chic new spot you want to stay in while you shop for a Whistler dream property of your own? I promise we will never need 1100 signatures to close the deal. - Dana
blog comments powered by

Disqus
Categories
Archives

Subscribe To This Blog